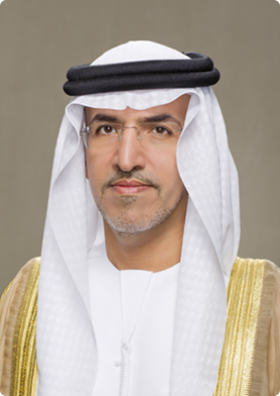 H.E. Dr. Mugheer Khamis Al Khaili
Chairman of the Department of Community Development
In March 2018, with the joint efforts of various public and private institutions, the Department of Community Development (DCD) started to take shape as an organisation to uphold the Emirati values of sustainable growth and social development, as envisioned by our founding father, His Highness Sheikh Zayed. Today, with a mission to improve the quality of life for all those who call Abu Dhabi their home, the Department of Community Development is now set to become a key driving force behind the continued success of the Emirate's development. With the support of our partners, we aim to contribute to the Nation's prosperity and build a happy, cohesive society by supporting and serving our community. To this end we are guided by the values of respect, credibility, empathy, responsibility, passion for giving and kindness. Our aspiration is to ensure a dignified life for all.
Under the guidance and leadership of the late Sheikh Khalifa bin Zayed Al Nahyan, the Department of Community Development aims to promote and invest in the talents and assets of our communities to help them develop, grow and thrive.
In our rapidly changing world, it is crucial that sustainable social development for the current and future generations remains a priority. In this respect, the Emirate of Abu Dhabi aims to lead by example, by laying the groundwork for community development, promoting economic growth and creating an inclusive, open and cooperative environment for all agencies to bring about positive results.
We are proud partners of Abu Dhabi Housing authority, Abu Dhabi Sport Council, Family Development Foundation, Ma'an Authority for social contribution and participation, Abu Dhabi Social Support Authority, Social Care and Minor Affairs Foundation, Zayed Higher Organisation for people of determination, Dar Zayed for Family Care and Zayed House for Islamic culture.
Each of these associations helps us ensure that every individual is taken care of at each stage of their life. As such, our programmes and initiatives are carefully designed to provide support and care at those crucial moments whilst taking into consideration the distinctive social fabric of the Emirate and its many cultures.